Extra Light Indicator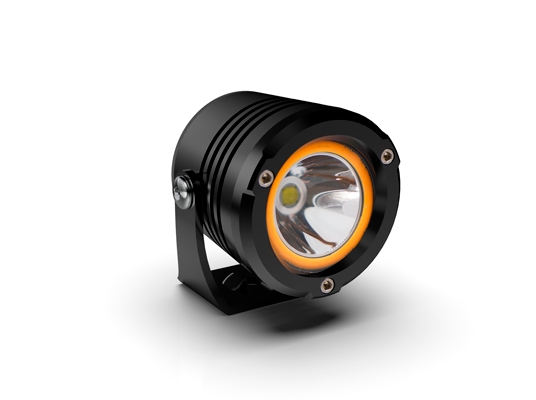 BARRACUDA - FARETTO INDICATORE
Il FARETTO BARRACUDA ( PROFONDITA' - INDICATORE ) dispone di tecnologia a LED con lente ottica,
è OMOLOGATO per uso stradale, la sua funzione è quella di faretto supplementare abbagliante
per aumentare il campo visivo ma ha anche funzione di indicatore di direzione.
Ha un design essenziale e dimensioni minimali ( diametro esterno 5,6 cm). Completo di staffa di fissaggio universale con snodo laterale , è realizzato in alluminio CNC nel colore nero satinato.
----------------------------------------------------------
BARRACUDA - INDICATOR SPOTLIGHT

The BARRACUDA SPOTLIGHT (DEPTH - INDICATOR) has LED technology with an optical lens,
it is APPROVED for street use, its function is that of an additional high beam spotlight
to increase the field of view but also acts as a direction indicator.
It has an essential design and minimal dimensions (external diameter 5.6 cm).
Complete with universal fixing bracket with side joint, it is made of CNC aluminum in satin black color.